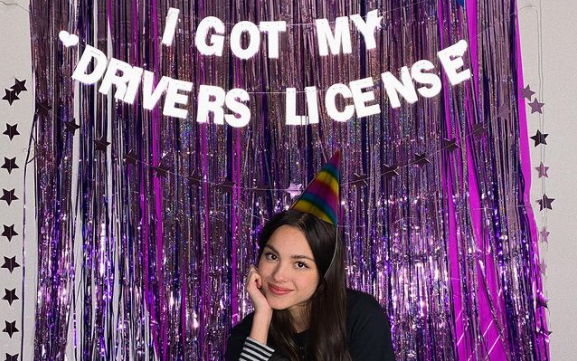 @olivia.rodrigo on Instagram
The beginning of 2021 marked the inception of Disney star Olivia Rodrigo's widely successful music career.
Rodrigo previously sang songs for the Disney shows she starred in, "Bizaardvark" and "High School Musical: The Musical: The Series." However, on Jan. 8, she released her debut single "drivers license." 
The title may seem straightforward, however, as the song continues the lyrics spin its wheels in another direction- heartbreak.
A song that seems so innocent has the power to move anyone to tears. It is more than a girl getting her license; it's the ending of a relationship Rodrigo never saw coming, leaving her crying through the suburbs reminiscing of times before.
"Drivers License" garnered attention from listeners all over the world, reaching number one on Billboard's "Global 200." On Jan. 11, the song broke Spotify's record for most streams in one day from a non-holiday song. On Jan. 12, she broke the record again.
Getting a driver's license and getting your heart broken are both things people consider "a right of passage." Since these two life events are regarded as widely universal, it makes sense why so many fans are identifying with the song. Even those currently in a healthy relationship posted videos screaming the lyrics.
While Rodrigo has not revealed who the song is about, the general assumption among fans is that it is about Joshua Bassett, Rodrigo's "High School Musical: The Musical: The Series" co-star. This is because certain lyrics seem to refer to Bassett's rumored new girlfriend, Sabrina Carpenter.
In the first verse, Rodrigo sang, "And you're probably with that blonde girl / Who always made me doubt / She's so much older than me." Carpenter is 21-years-old, four years older than Rodrigo. Carpenter also has blonde hair.
Fans also assume the song is about Bassett because he allegedly taught Rodrigo to drive in an In-N-Out parking lot. This correlates to the opening line of the song, which is, "I got my driver's license last week / Just like we always talked about."
Amongst all of the praise for "Drivers License," Bassett and Carpenter received backlash from Rodrigo's fans. As of Jan. 24, Bassett has limited his Instagram so that only his followers can comment on his posts.
Bassett released a song titled "Lie Lie Lie" six days after Rodrigo released "Drivers License." The title is self explanatory, as the song is addressed to someone who is spreading lies about him.
Upon the first listen, the song seems as though it could be about Rodrigo. However, Bassett posted a video of him singing an early draft of the song to his Instagram in November of 2019. The timing of "Lie Lie Lie" could've been coincidental, but it's more likely that the songs were scheduled to be released one after the other as a publicity stunt.
While Bassett's song may be unrelated to Rodrigo's, the song Carpenter released on Jan. 22 was much more direct. "Skin" is directed toward someone who put Carpenter in the spotlight, who is attempting to get "under her skin."
In Carpenter's first verse, she sings, "Maybe you didn't mean it / Maybe blonde was the only rhyme." This seems to be an obvious reference to Rodrigo's line about "that blonde girl" in "Drivers License."
Carpenter also sings, "Don't drive yourself insane / It won't always be this way." Her use of the word "drive" could have been an intentional reference to Rodrigo's song. The line could also reference the tortured, emotional tone of Rodrigo's song. The love Rodrigo still holds for this person seems to be driving her insane, to the point where she's driving by their house, crying.
While the lyrics of "Skin" seem to be directly pointed at Rodrigo, Carpenter made an Instagram post on Jan. 24 stating that the song wasn't directed at anyone specifically and even complimented "Drivers License."
"I wasn't bothered by a few lines in a (magnificent) song and wrote a diss track about it," Carpenter wrote. "Some lines address a specific situation, while other lines address plenty of other experiences I've had this past year."
It's unclear whether all of the drama that comes along with "Drivers License" is real, or if it was manufactured in order to boost Rodrigo, Bassett and Carpenter's popularity. It's possible that this could be an attempt to promote the second season of "High School Musical: The Musical: The Series," which is set to come out sometime this year.
Either way, there is no denying that Rodrigo has surged in popularity through the entire situation, as well as Bassett and Carpenter by association. If the situation was in fact a publicity stunt, it succeeded. And if it wasn't, then the attention that came along with it is a silver lining.