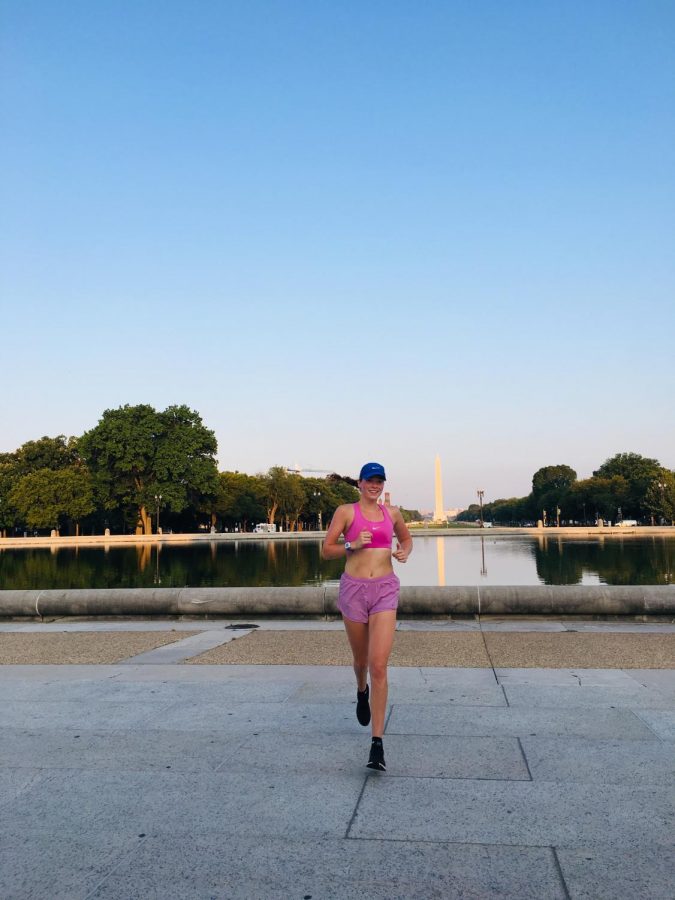 After the NCAA announced that seniors who had their season cut short could return for an extra year, it left some seniors with a big decision to make. For Central Connecticut track star Megan Brawner, she saw it as a way to end her college career on her own terms.
"I decided to return to use my cross country and outdoor track eligibility because I did not want to look back 10 years from now and think, 'what if?' Life is too short to have regrets and I deserve to have that closure of finishing my career with my team as I had always intended," Brawner said.
Brawner had wanted to finish the outdoor season and then leave for boot camp in August but the world had other plans.
"I had been in touch with an Army recruiter and as a result of the pandemic, they stopped processing new members. I took this as a sign from the universe to return to CCSU for one last year. "
Brawner was a part of the Blue Devils' gold medal-winning distance medley relay team with Ashley Dana, Magnalen Camara and Angie Rafter. With her return for an extra year, it means that the Blue Devils will be able to retain this quartet for an extra year.
Along with her team successes, Brawner won 5,000-meter run and the mile run at the indoor track championships. During the season, Brawner broke the school record for the one mile and then proceeded to break her own school record with a time of 4:49.55.
"My favorite memory from the 2020 indoor season was breaking the mile record at the [Eastern College Athletic Conference] Championship at Boston University in March. I was preparing for the preliminary round and I had my doubts. I took the weekend off from racing after the NEC meet and I was nervous that I had lost some edge," Brawner said. "Coach Blake came up to me as I was putting my spikes on and I said I was going to hang in the back and let the other runners control the pace because I was feeling nervous. He looked me in the eye and said, 'you're going to break 4:50, I know it.' And long behold, he was right. I was third in the prelim and ran 4:49. All it takes is someone putting their faith in you for you to believe in yourself again. I will never forget that moment."
Helping to keep her ready for the extra year, Brawner has been out running and is preparing for the long summer miles. Brawner has been following an excel sheet that coach Eric Blake sent to the team. Within it are tabs for each month of the summer.
"Our summer training program officially begins on June 1. Summer training consists of three months of high mileage and endurance building," Brawner said. "It is a very easy plan to follow because it is a 'get out the door plan.' It can be done anywhere at any time. Each day of the week has the amount of minutes we will run for."
With it being her final season, Brawner is ready for what's to come and the challenges that it will bring her.
"When the season ended prematurely, I sat myself down and realized that just because the season was over, doesn't mean my goals have to be. The timeline has just shifted and with that, comes more determination to work harder for when the opportunity presents itself to race again, " Brawner said.
"As cliche as it sounds, my team is everything. When you commit yourself to a team for four years, they truly become a second family," she continued. "You have good days, bad days and days you wish would never end. My teammates have laughed with me, cried with me and pushed me to survive some pretty epic workouts. Their fierceness and tenacity have and will always inspire me."
While Brawner is remaining on the team, she has a big move coming up, literally. In August, she plans on moving to Washington D.C  to stay with family and apply for internships thus leaving her to train on her own in the fall. Brawner will continue to travel with the team for significant races, such as the New England Championship in Boston and the Northeast Conference Championship at Bryant University.
The extra year gives Brawner another chance to achieve her goals. Having lost out on an opportunity to have an outdoor season, Brawner is gonna give this opportunity, all she has.
"My big focus is the outdoor season. I have always had my heart set on qualifying for the NCAA regional meet. I have a lot of time goals that I am eager to tackle and when I move back to New Britain in January, I will be working as hard as I can each day to achieve those goals when the opportunity presents itself," Brawner said. "I am really grateful for the chance to be trained by Coach Blake for another year and work with my teammates. We have all of our key scorers returning for the 2021 outdoor season which means we are aiming to defend our women's outdoor track title."
Megan Brawner was a part of The Recorder staff this semester.