I have always been a proud Blue Devil. With my mother and grandfather being alumni of Central Connecticut, my sense of deep pride has only been strengthened through my family connections within the CCSU community. 
Being in quarantine has left many of us with a lot of time on our hands. Some people, including my grandfather, have taken the time to reflect on fond memories and look through memorabilia lying around the house.
Recently, he came across multiple yearbooks he had acquired from his time as both a mathematics student and baseball coach at Central. I felt particularly drawn to a yearbook from 1972.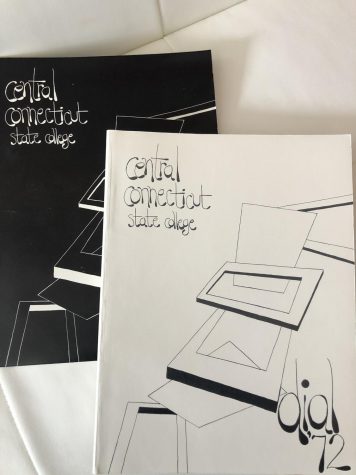 Entitled the "1972 Dial", Editor-In-Chief Nancy A. Larson wrote that they aimed to present a balanced yearbook which everyone could enjoy. That year they produced two books.
"The first book is not only a record of the year, but an attempt to present the issues, feelings and attitudes which have affected Central students," Larson wrote in a letter in the yearbook. "The second book is designed to be an individual experience. We, have presented a basic theme to which each person will react based on personal interpretation."
The second book contained a plethora of black and white, thought-provoking pictures, some of which contained quotes.
As I flipped through the book I was moved and inspired by the themes it presented. Just looking through that tiny black book I could tell that Central's class of 1972 was a class of action. 
One particular page had a picture of garbage littering the ground, next to it was a picture of a trash can with "trash can please help" spray painted across it. A quote at the bottom of the page read "not to decide, is to decide".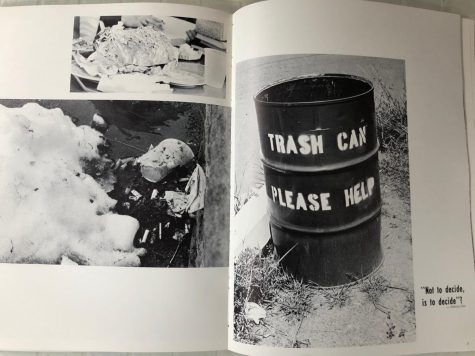 The 1970's were truly a time of empowerment. According to HISTORY, in 1970 Congress passed the National Environmental Policy Act and the Clean Air Act, with the Clean Water Act following two years later. Central students were passionate about the environment. 
The 1970's were truly a time of taking charge of one's life. Another page displayed a picture of two boys sitting together alongside a picture of two girls walking beside each other. The quote underneath read "do we stand alone, or do we stand together?"
Central students were passionate about equality.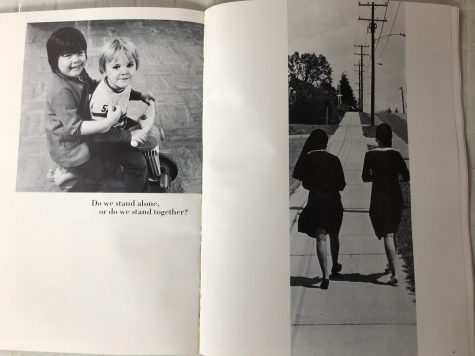 "In 1972, after years of campaigning by feminists, Congress approved the Equal Rights Amendment to the Constitution," according to HISTORY.
The first book reaffirmed these values, displaying pictures of Central students gathering in Bushnell Park in Hartford to protest the instituting of a tuition on Connecticut students. Where previously CCSU and the other state college students had not been assessed tuition, they were required to pay an additional three hundred dollars per year.
They were not scared to fight for what they believed in. 
Though a much different time period than the one we live in now, I found myself still finding many similarities between present campus life and what campus life appeared to be like in 1972. 
Today, our university website reads, "Central Connecticut State University is a community of learners dedicated to teaching and scholarship that emphasizes development and application of knowledge and ideas through research and outreach activities and prepares students to be thoughtful, responsible and successful citizens". 
We, as Central students, are encouraged to take charge of our destinies and take full advantage of all opportunities and resources presented to us. 
Just like the class of 1972, we want to see each other succeed and we are there every step of the way to help each other through that process.
Thank you Central for encouraging me to dig deeper into the history of this university. Thank you for this special bond you have created for my grandfather, mother and I.
I feel so lucky to call this my home.