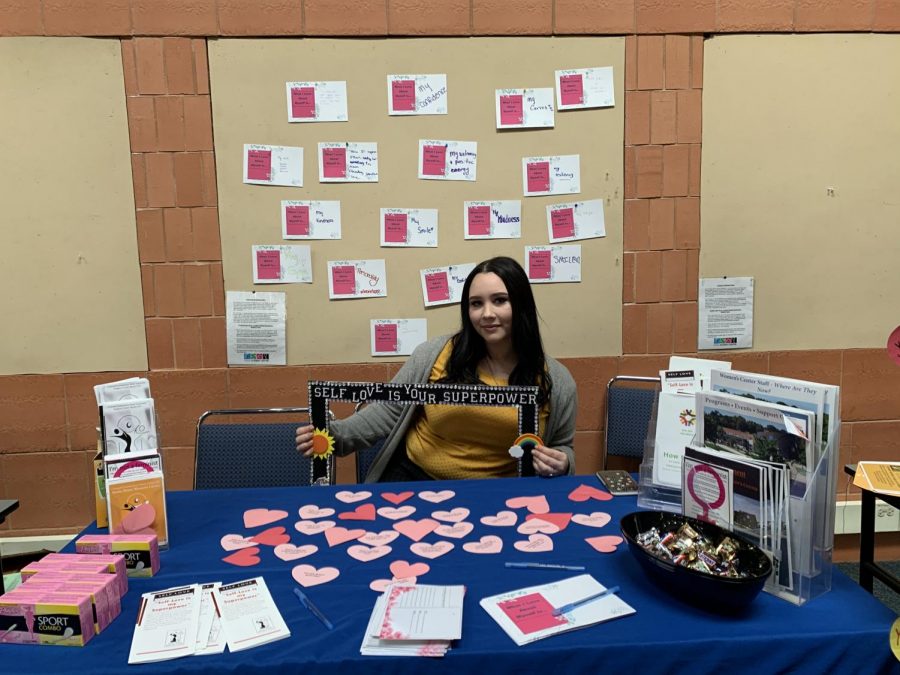 Bruna Vila Artigues
Love Your Body Day is a time to celebrate and embrace one's body no matter their shape, size, race  or gender.
The Body Image Therapy Center says that 70 percent of 18 to 30-year-old women do not like their bodies and 43 percent of men are dissatisfied with theirs too. As a result, 30 million people will "suffer from an eating disorder in their lifetime."
The Ruthe Boyea Women's Center hosted a station in the Student Center where members of the Central Connecticut community could write words of encouragement on little cards and posters about loving themselves and others.
Students wrote phrases such as " my smile," " my welcoming and positive energy," and " my curves," amongst others as a lift of positivity.
The station also included brochures for self-love, a mirror sharing positive-defining words and empowering quotes that people could take with them, such as "loving yourself is the greatest revolution," "there is nothing wrong with your body," and "no one is you and that is your superpower."
"Love your body day is a day where we promote self-love and self-acceptance," Paola Zayas García, a student worker for The Women's Center, stated. "It is basically about embracing your uniqueness and accepting yourself for who you are."
The annual event is celebrated on the third week of October as a way to learn what people do not like about themselves so that they can fight it and feel comfortable in their own skin. The station worked to emphasize how crucial spreading body positivism and having a healthy relationship with one's body is, especially on college campuses and areas with young adults who are constantly reminded of their physical appearance and compared to others.
"I feel like that is a really important message and I am so happy to be a part of it," Ja'nyha Snell, Women's Center intern said. "A little goes a long way and then even looking in the mirror and just loving yourself."
Despite a small crowd, García and Snell, the main organizers, received positive feedback from those who participated in the event.
"I know that we are touching the people that do come here," García noted. "I made it my mission to promote self-love on campus, because nowadays we are so influenced by the media and its unrealistic standards of beauty that we often feel we need to 'look a certain way' or 'act a certain way' in order to be accepted by others," she added.
Studies have shown that it is common to associate body image problems with females which often neglects men who also feel insecure or struggle with their appearance. Therefore, they hope to expand and promote more events similar to Love Your Body Day to bring that to light and spread the message of body positivity and empower every shape.
Love Your Body Day continues to help and encourage people to become comfortable with who they are and to not only embrace but love what they consider their "flaws."
As one of the many words of encouragement state, "beauty begins the moment you decide to be yourself."