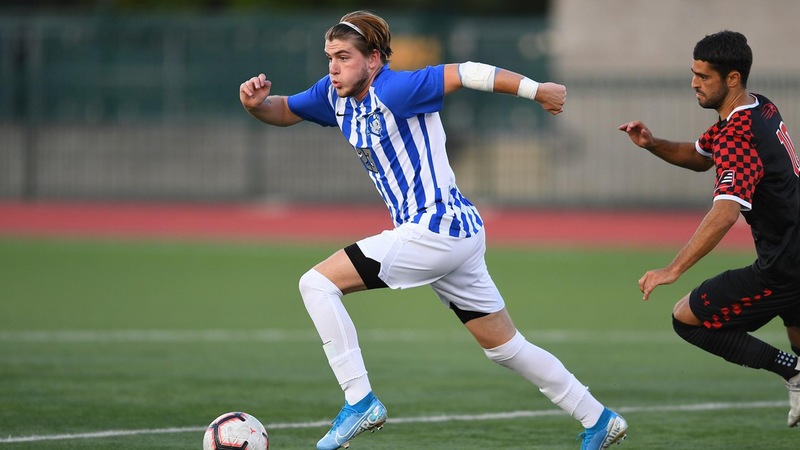 If you were to watch a game of men's soccer at Central Connecticut State University, one player who always sticks out is charismatic freshmen forward Jamie Simpson.  
He has a very noticeable appearance on the field with his hair pulled back with a white headband, bandages on his left arm and the Liverpool logo tattooed on his right forearm. 
Simpson, a freshman out of Penncrest High School has previously played for the US Soccer Development Program for Continental FC Delco. He was the top goal scorer for Continental Delco this past season with eight goals and six assists. In 2017 Jamie was recruited by the Philadelphia Union to travel Mexico to play in the BBVA Liga Bancomer tournament.
"Jamie is an outstanding striker who can score goals," head coach Shaun Green said to CCSU Athletics. "He has proven himself at the US Academy level and I am confident he will prove himself at the NCAA Division One level also. I personally love his relentless attitude to win. I believe he is going to make an immediate impact on our team and in our conference this fall."
Despite being a freshman, he has featured in all eight games of the season so far and starting in six of them. When on the pitch, Simpson has made the most of his opportunity, constantly running and trying to create scoring chances for his team. 
"I've always looked at it as you have to give everything no matter what because at least if you're not having a good game you can at least work as hard as you can," Simpson said. "You've gotta work hard for everybody that's working for you."
"There are people out there looking up to me to see what I can do. There are some people that aren't in my position that would love to be in it so I do whatever I can whenever I step onto the field".
Every game he has played in, he's played against players who are a lot older than him with more experience and are often on scholarships. 
"I'm very proud of him, he is eight weeks out of high school and it's a massive jump going from playing 18-year-olds to 22-year-olds," Green said. "He's getting experience playing Division 1 which is something very few freshmen get a enjoy."
Though his game impact often does not appear in the box score, he is currently tied for first in goals scored for the Blue Devils.
Although scoring is something he expects to do every time he plays, it is his high level of energy that he aspires to achieve every game, which makes him one of the more exciting players to watch for Central. 
Simpson is already one of the Blue Devils better players as a freshman, which allows Central and coach Green to build around his talent and energy going forward. The stats will come as long as Simpson's energy is there every game.