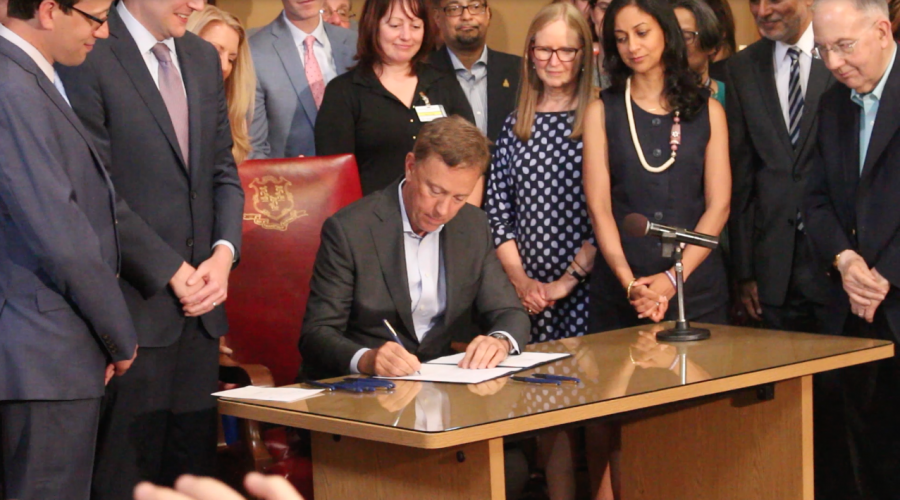 Kristina Vakhman
Connecticut insurance companies have long ignored federal mental health parity laws meant to prohibit them from treating mental health services as lesser than their medical or surgical counterparts. In July, Governor Ned Lamont signed a bill into law to change that.
"Insurance companies do not treat diseases of the brain the same way they treat diseases of the body," Connecticut Rep. Sean Scanlon, one of the bill's key backers, said in an interview after the July signing. "That is very unfair and discriminatory."
The Connecticut bill will require insurance companies to annually submit detailed reports of their coverage of mental health and substance abuse services. This comes after a 2017 Milliman report showed Connecticut has the worst mental health parity compliance in the United States, forcing patients into out-of-network coverage.
The state insurance commissioner's office will evaluate whether companies are meeting mental health parity requirements and send its determination to legislature's insurance committee, which Scanlon co-chairs. The bill will take effect in 2021.
But there are no written repercussions for insurance companies who don't comply. Scanlon said that could come later and that, for now, the "media attention and public spotlight" on companies with "bad behavior" would serve as a punishment. 
He added that there could be further repercussions, like the insurance commissioner denying a company's request for a rate increase if it is not meeting mental health parity requirements. 
"People who are discriminating against other people should not be making more of a profit," Scanlon stated.
Moreover, Scanlon said that the bill's removed provisions requiring insurers to cover prescribed substance abuse treatment drugs and to cover treatment regardless of whether it is court-ordered are also for the future. They had to be stripped, he said, or Connecticut's insurance companies would've had the whole bill scrapped.
"They were probably going to try really hard to kill the entire bill if we didn't compromise," Scanlon explained, saying he plans to tackle it in the next session. "That piece is really important to me and I will continue fighting for that piece until we get it done."
The United States' Federal Mental Health Parity and Addictions Equity Act was signed into law in 1996. Scanlon said it has "no teeth" to hold insurance companies accountable, but that this new Connecticut bill is a step in the right direction.
"This is going to lead to people who have been in the shadows, unable to access care because their insurance won't cover it, to finally getting the help that they deserve," he stated. 
That includes people like one-time Democratic candidate for state treasurer Dita Bhargava's son, who died last year of a fentanyl overdose after battling an opioid addiction for years. At the bill signing, she said his coverage for treatment was "always only partially covered." 
"This bill would have helped him tremendously," Bhargava said. "He went through seven rounds of treatment. Every round was faced with the same challenges of trying to get insurance companies to approve his treatment."
"It was never more than 28 days and we know that this is a lifelong disease," she went on, recalling how her son once asked why his struggle with his addiction was seen as less than a physical ailment like cancer. 
And former Democratic Rhode Island U.S. Rep. Patrick Kennedy, who also appeared at the bill signing, called it a "modern day civil rights bill for those with brain illness." He himself has fought a drug and alcohol addiction along with handling bipolar disorder.
"With the signing of this bill, [Connecticut's] gonna be on the way to leading this country on this issue which you should feel very proud of," Kennedy said. 
But for uninsured individuals like Central Connecticut political science senior Christian Reyes, the bill makes no difference. By the time he reached the point of needing behavioral health treatment, he had nothing to cover it and has given up on trying to get insured.
"It'd be nice to see a therapist or a counselor, but if you don't have extra money to even pay your bills on time, how are you going to see someone for mental health treatment?" Reyes said. "When you don't have insurance, you learn to deal with your mental health on your own."
While he appreciates the bill, Reyes feels "completely forgotten" when it comes to mental health coverage.
"It's great especially considering, in Connecticut, there's a lot of drug use. I live in Torrington and it's plagued with hard drugs. It's good that people who are insured can use their insurance for what they need," he stated. 
On a national scale, Connecticut is taking a stand as well.
Senator Chris Murphy took part in introducing the Mental Health Parity Compliance Act of 2019. It would require insurers to "submit comparative analyses upon request from federal oversight agencies," according to a press release, finally giving the federal law the "teeth" Scanlon said it's lacking.
"People in Connecticut with mental health and substance abuse conditions deserve the same access to care as everyone else," Murphy said in the press release. "Our legislation will require insurance providers to give the same access to care for someone with a mental health diagnosis as they do for someone with a broken leg, and it will crack down on bad actors to make sure they do."
The Mental Health Parity Compliance Act of 2019 is currently waiting for consideration. In the meantime, Connecticut's legislators hope their bill will correct the state's parity record.