New Volleyball Locker Room Shows Steps Towards Gender Equity
Hang on for a minute...we're trying to find some more stories you might like.
In the sports world, female athletes and the issues they face are often put into the back court compared to their male counterparts. The locker room for Central Connecticut's volleyball team is a prime example, something Brian Barrio was adamant on changing in his first year as CCSU's Athletic Director.
Since the program first joined Central Connecticut Athletics in 1999, volleyball has had to share their locker room space with several other female sports teams. At times last season, the team would have to make their adjustments for the game from a classroom, because there was no locker room to meet in between sets. As Barrio puts it, "In Division-I Athletics that's a joke and not the way it should work. That's not the D1 experience."
Barrio, who was hired as CCSU's AD this year, has made it a goal to bring gender equity to Central Athletics.
"One of the areas that I felt we were behind in was locker room space," Barrio said. "Over the years, our men's teams have been able to make individual spaces for each team, where as a lot of our women's teams had to share one big locker room."
Volleyball's head coach Linda Sagnelli, who has coached the team to more than 300 wins in her 19-year tenure, has campaigned for a new space for her team for "many years now" and believes it's "an incredible thing that I wanted to see done in my time at Central. The people were in place to help make it happen and I am just so happy that it could get done."
Talks of actually putting in a locker room started only a year and a half ago and had to be done by August 10, when the team got onto campus for their summer workouts. It took a dedicated team to accomplish such a tall task in such a short time, and as Barrio put it, it's not exactly "typical at Central to do things really quickly."
According to Sagnelli, the real ones to thank for this new addition are not themselves, but rather the family, friends and fans of the program.
"Through a lot of hard work and collective effort from the team and athletics, we raised money for part of it," Sagnelli explained. "But our families and the funding they provided for us to raise what we had to was so heartwarming."
Barrio attested the same for the support team with the project.
"We were beneficiaries of how Linda treats her student athletes. Their parents believe so strongly in that program that they were willing to really pony up, friends of the program as well, who were willing to step up and say 'hey you deserve this' and give the money necessary to make it happen."
He also emphasized how facilities "moved heaven and earth" to get things done in time. "We needed help from a lot of different areas, and everyone rose to the challenge," Bario said.
Volleyball has done much to prove they deserve a space of their own. This past semester, the team finished with a 3.62 GPA, the highest of all sports teams on campus. This year also marked the 13th in a row that the team won the American Volleyball Coaches Association Team Academic Award, given to teams holding a 3.30 GPA or higher.
Barrio, of course, has high praise for these student athletes and gives them all the credit in the world for their work effort.
"They believe every [positive] stereotype of what an athlete is at college. They're unbelievable students, wonderful ambassadors to the school and are competitive every single year." Bario said.
Beyond that, Barrio believes that this new space will help the team on the scoreboard as well.
"When you take care of the little things in the culture, the winning comes naturally." Barrio explained. "Giving them their locker room space and eliminating those day to day annoyances will help them win."
Sagnelli says that the locker room might not have gotten done had it not been for Barrio, but he thinks that the way people normally perceive the hierarchy in athletics is actually the opposite.
"People tend to put the AD up top then the administration and so on. In reality, it's the student athletes up top. What they do is what we're here for," Sagnelli said. "They're why I have a job and come into work everyday. My job is to try and create the resources and remove some of the obstacles so that they can be successful, and this was a case of that."
A new space for volleyball is a step in the right direction for CCSU's Athletics, but Barrio is quick to say that there is still "lots of work to do" in fully bringing gender equality to Central Connecticut sports.
About the Writer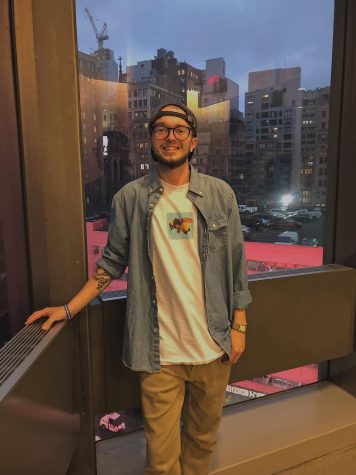 Ryan Jones, Managing Editor
Ryan Jones can be reached at ryan.michael.jones@my.ccsu.edu