CCSU Stands Up To Sexual Assault
As Sexual Assault Awareness Month comes to an end, Stand Up Day asked Central Connecticut students to gather in the Student Center Circle to participate in a number of activities focused on taking a stand against sexual assault and how to address several issues that stem from it.
Through various activities, students were given skills to combat sexual assault culture by learning proper forms of consent, altering the idea of victim blaming and where and how to find help. Stand Up Day is one of the many events during April that have opened up the discussion on sexual assault on college campuses, which has become a prominent issue. 
"I think it's great to see so many people supporting a cause like this. It's obviously a prevalent problem we have today so it is great to see the whole school coming together for an event like this," Andrew Ram, a Freshman majoring in athletic training, said.
"[CCSU] does a great job in letting people know about their causes and it's nice they put it right here in the Student Circle that everyone passes every day. They're not hiding it or putting it in the corner, it's accessible and open for everyone," Ram continued.
Stand Up Day was engaging, with several interactive learning activities that allowed students to share their ideas on how to counter sexual assault in today's world. Those in attendance also received free t-shirts to show unity.
Trinitee Williams, a Freshman majoring in computer science, is one of the many students who work in the Ruthe Boyea Women's Center. She believes the several events focusing on sexual assault has helped promote support within the campus community and has allowed people who are afraid to share their stories to come forward.
"A few weeks ago, we had an event called 'Take Back the Night,' and [Stand Up Day] is very important to us because we are all for [supporting] sexual assault victims and their family, friends and witnesses. We're really here as a group to just help support everyone and let them know they are not alone," Williams said.
Stand Up Day and Take Back the Night are some of the larger events during April that have provided information for victims seeking help and on ways to make the campus a safe environment. Along with the Women's Center events, the Office of Victim Advocacy and Prevention has also participated in Sexual Assault Awareness Month.
Michaela Salvo, a junior majoring in art, assisted in running one of the Office's booths during Stand Up Day. She emphasized the efforts made by the Office of Victim Advocacy and Prevention have made the conversation of sexual assault more acceptable to talk about.
"It's really special because sexual assault is not something that's typically talked about. I think the Victim Advocacy group does a good job talking about [the sexual assault and misconduct] on campus," Salvo said. "I hope events like this brings more awareness and make people think more before they do stuff or take action, and ask for consent."
About the Writer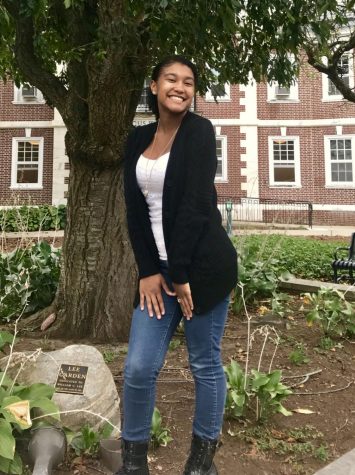 Isabella Chan, Editor-In-Chief
Isabella Chan can be reached at chan2017@my.ccsu.edu.