Silent Rally Speaks Volumes Across Campus
Side by side, dressed in black, hundreds of Central Connecticut community members stood together in solidarity in the Student Center to peacefully protest against the recent acts of hate displayed on campus.
The protest came days after anti-gay pamphlets were posted in an LGBTQ literature class advocating for the conversion of LGBTQ individuals and after the n-word was spray painted on two campus buildings.
Central's Black Student Union and PRIDE joined forces to stand against the hateful acts and to show the campus must strive to be more accepting of the diversity within it.
BSU President Nicole Glaude and PRIDE President Armando Osorio spoke of their views on the incidents, deeming them as having no place at CCSU.
"Today we are standing against the blatant acts of racism and homophobia within our campus that have transpired this week. What has happened on this campus is unacceptable," Osorio said.
Glaude agreed, saying that the actions were "violent" and would leave a mark on the university from now on.
"As it currently stands, the paint that currently stains our Student Center and buildings will be a permanent reminder of the neglect that has been exercised so long by the liberation of oppression," Glaude said.
Glaude requested, that following the incidents, the university should take better action to "acknowledge the issues for minorities on this cis, predominantly white institution" and create mandatory racial justice curriculum and training for faculty and staff.
Dr. Evelyn Newman-Phillips, Central anthropology professor, showed her support for the rally and was one of many speakers in attendance. She pushed for students to make changes within the campus community and in larger society to help better the future.
"I have been here for almost 25 years and this process has been an ongoing process. Every few years, students will organize to address something, but what change really occurred?" Phillips questioned. "I appreciate these demands because we must have institutional change."
Members of the Student Government Association also partook in the rally to show they stand with the black and LGBTQ communities on the CCSU campus.
"I know that our student government represents not one student but all students on our campus. We represent every identity and every race. We will work with the campus to set the precedent that [these actions] are not acceptable," SGA Treasurer Kristina DeVivo said.
Following the opening of the rally, the audience stood together for 30 minutes of silence.
"Stand with us and stand silently because, after this, we will be making a whole lot of noise," Osorio said.
As the silence came to an end, those in attendance at the rally and members of BSU and PRIDE marched the perimeter of the campus, chanting, "Black lives matter, queer lives matter, all lives matter!" and, "We exist to coexist!"
President Dr. Zulma Toro sent an email Monday apologizing for not being able to attend the rally and expressed her support to BSU and PRIDE. She also addressed how the inappropriate behavior of such actions like the graffiti and the brochures will be handled.
"Last week's rally was a strong indication of the strength we have when we work together. I truly believe we are moving in a positive direction to becoming the inclusive and supportive environment we expect Central to be," Dr. Toro stated.
Along with speaking to representatives from BSU and PRIDE, Dr. Toro said she plans to organize an open forum centered on campus diversity and inclusion. This event will include several student groups and Student Affairs. Both cases are actively being investigated by the CCSU Police Department, she wrote.
About the Writer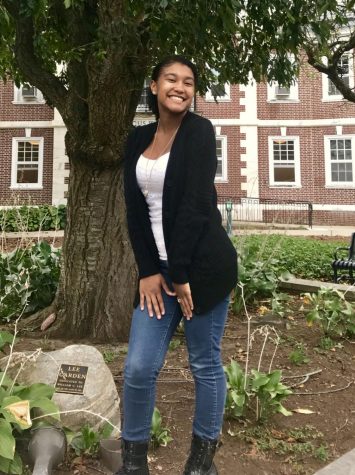 Isabella Chan, Editor-In-Chief
Isabella Chan can be reached at chan2017@my.ccsu.edu.