Central Welcomes Bassett Hall
The Social Sciences Hall is no more – Central Connecticut officially renamed the building to Ebenezer D. Bassett Hall in a ceremony last week to honor the university's first African-American graduate.
"This building symbolizes the very essence of everything that embodies equity and justice. The naming of this building is an act to divide the waters and usher in a new day at Central Connecticut," William Fothergill, chairman of the Ebenezer D. Bassett Memorialization Committee, said.
The renaming has been an idea years in the making by Fothergill and the Bassett Memorialization Committee so that they may honor Bassett for all his accomplishments as a distinguished scholar, alumnus, civil rights leader, humanitarian and diplomat.
Many gathered in the newly-named hall to honor his legacy at the naming ceremony. Those in attendance included CCSU President Dr. Zulma Toro, New Britain Mayor Erin Stewart and Mark Ojakian, president of the Connecticut State Colleges and Universities system.
The opening ceremony began with the playing of African drums along with opening remarks by Dr. Toro, in which she praised Bassett for being an example for Central students and credited him for "sparking the university's tradition of breaking barriers to education."
"Mr. Bassett most certainly deserved recognition on this level and it is long overdue," Dr. Toro said. "To this very day, Ebenezer D. Bassett continues to be an inspiring example of what is possible for what we long hope for in the American dream."
Fothergill later called upon the history of Basset's journey through life, recognizing him as "a man who tirelessly gave up himself in order to leave [the world] a better place than he received."
"The American story is a diverse story, and we celebrate the diversity of institutionalizing the name of a distinguished African-American Alumnus in this institution. We are now finally included," Fothergill said.
"Ebenezer Don Carlos Bassett's story is not an African-American story, but it's an American story," Fothergill went on. "It is time for us to write the American story that celebrates all of us. Simply said, honoring our past and connecting to the future."
The building is the first public building in Connecticut to be named after an African American.
Stewart also shared that Bassett will continue to be honored at the historic walking tour downtown and a memorial plaque by the original location of the former Normal School.
Ojakian believes the renaming will inspire other higher education institutions to be more diverse. Western Connecticut has already begun to do so and is currently in the process of renaming its School of Visual and Performing Arts after the African American singer Marian Anderson, according to Ojakian.
Student James Angelopoulos packed into the lobby to witness the naming ceremony. He sees the renaming as an opportunity for Central students and the state of Connecticut to recognize diversity and embrace it.
"Ever since my freshman year in 2016, I have been waiting with bated breath for the renaming of the Social Sciences Hall," Angelopoulos stated. "Ebenezer D. Bassett is arguably the most important person to attend and graduate from this institution. It is only fair that he be given the recognition he deserves."
About the Contributor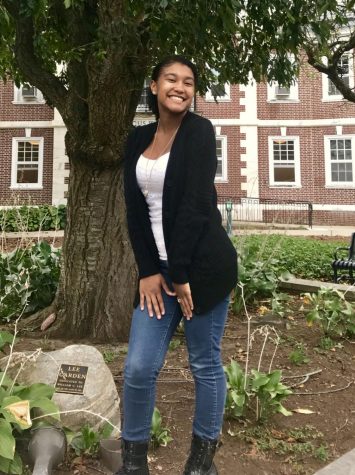 Isabella Chan, Editor-In-Chief
Isabella Chan can be reached at chan2017@my.ccsu.edu.