CCSU Food Pantry Works Against Growing Campus Hunger
Hang on for a minute...we're trying to find some more stories you might like.
A snip of a ribbon and Maria's Place, Central Connecticut's community pantry, reopened at its new on-campus location last fall. Tucked away in the lower-level entrance of the Vance Academic Center, Maria A. Alvarez's face on the front window greets visitors, her smile radiant beside the pantry's signature sky blue logo.
The pantry's move and expansion came just in time; with food insecurity on college campuses rising nationwide, it is more important than ever for CCSU to be ready to lend a hand to those who need it, according to Coordinator Freddy Rios.
"The numbers have grown significantly each semester," Rios said. He has data to back that up – since Rios started as the coordinator in 2017, the pantry has seen an increasing number of first-time visitors every semester, with six in Spring 2017 and 60 in Fall 2018.
The rise in need CCSU has seen falls in line with a United States Government Accountability Office report from January that found student hunger to be a pervasive problem, though the exact scale is unknown. Moreover, the report read that "of the 3.3 million students who were potentially eligible in 2016 [for the Supplemental Nutrition Assistance Program], less than half said they participated."
And options for hungry students are limited. To qualify for food stamps, the U.S. Department of Agriculture requires a student to work at least 20 hours a week if they don't have a child. It is not easier for those with children, as the federal government requires them to work 20 to 30 hours a week to get cash assistance.
"That's just another reason for the importance of Maria's Place existing on campus," Rios said. "You're gonna see soon a lot of food pantries that are going to be established. We actually just had a person from Southern Connecticut contact us because they're in the process of creating a food pantry like ours."
Maria's Place provides a vital service to CCSU students, faculty and staff who are in need of food assistance. Rios and 12 other volunteers always keep busy stocking shelves, collecting donations and making an effort to raise awareness of the pantry's accessibility.
Rios has also worked to upgrade the pantry, whether that be by tracking how many CCSU community members make use of it or by implementing a new digital sign-in procedure that takes note of the date, time, number of items taken and any items low-on-stock during a visit. Additionally, he's extended the pantry's hours to accommodate those who require its services in the evening.
"I realized I could actually make an impact on campus," Rios said. It's his last semester as the coordinator, as he's wrapping up his Master's program, but the work for him and the pantry's volunteers carries on.
For volunteer Alexis Armstrong, that includes interacting and connecting with visitors. The sophomore social work major is following in her mother's, who works with food insecurity in the social work profession, footsteps.
"She's worked with lower-income families since I was born and she is a resource for them to get food stamps and access to food pantries," Armstrong said. "Food is a necessity to survive and the fact that it's scarce is terrifying to know."
Armstrong sees Maria's Place as especially important for those students with "families and children," as the pantry "being able to provide a resource for [them] is life-changing for them." And "all kinds of people" come to Maria's Place, Rios said – it is almost impossible to tell who is food insecure just by looking at a person.
"I've never judged anyone who came into the pantry. They look like one of us. They're just a regular student. That's why the pantry is so important. It breaks down that stereotype," he stated, furthering that because visits are anonymous, those in need do not have to feel ashamed for any reason.
Maria's Place has come a long way. The snip of a blue ribbon opened the doors to an essential on-campus service that simultaneously honors Alvarez and her 32-year-long legacy of helping CCSU students, as well as her commitment to her parish's food pantry and making sure that anyone who didn't have food on the table went home with enough to set up for dinner.
"I just hope that more pantries open up," Rios said. "It's very important that every university, even community colleges, have a food pantry."
Maria's Place is open Mondays and Thursdays from 10 a.m. to 5 p.m., Tuesdays and Wednesdays from 10 a.m. to 8 p.m. and Fridays from 10 a.m. to 6 p.m. For more information and to see a list of donatable items, visit compassion.ccsu.edu/foodpantry/.
About the Contributor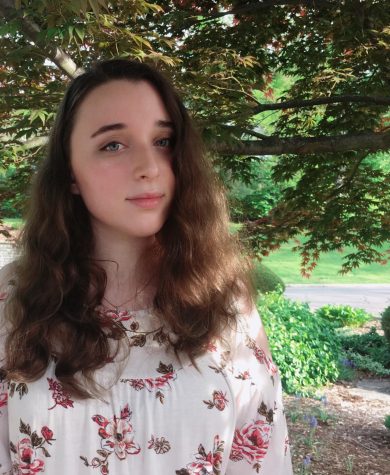 Kristina Vakhman, News Photography Editor
Kristina Vakhman can be reached at news@centralrecorder.com.