CT Woman Inspires Hope With 'Covery Boxes'
Hang on for a minute...we're trying to find some more stories you might like.
Some of the darkest days for Stephanie Lionetti were those spent in treatment for her eating disorder and addiction.
"It's a very lonely feeling when you're in recovery," Lionetti said. "It's really hard to be in a place where you don't have a lot of connection with the outside world."
Now 33, the woman who found herself in and out of recovery centers across the country for nearly a decade is working hard to make sure that the isolation she felt while in treatment is something no other woman would ever have to go through.
Lionetti's self-made business, which she calls "Covery Boxes," features a "little box of love" with various items in it that someone might find useful throughout her recovery journey in a treatment center.
"Every box is really uniquely different. I never order the same thing twice," Lionetti said. "There's also some comfort things in the boxes too, like socks. Even chapstick and hair ties are great."
Lionetti also said her boxes, which she puts together herself, can feature other items like jewelry and notebooks.
The idea stemmed from Lionetti's experiences in over a handful of treatment centers. Her parents, she said, would always ask what she wanted them to send her.
"The first thing I ever asked for in treatment early on was a bracelet that had something inspirational. I still have that bracelet," Lionetti said. "I wanted something to remind me every day why I was there. [I wanted to] hold onto that feeling that people believe in you when you don't believe in yourself."
Lionetti said she can relate to that feeling of self-doubt and self-deprecation.
"I think when both my addiction and my eating disorder came to a head, I was in such a bad place," Lionetti said. "I just didn't have that desire to live anymore, and that's what really scared me because I felt so defeated inside. "
Then, being in and out of treatment centers for nearly a decade, Lionetti moved back and forth across the country seeking out help.
She explained how, at each facility, there was a "box opening" period where those being treated had the opportunity to open gifts and mail.
"There were never a lot of boxes coming in," Lionetti said. "No one really knew what to send us or what was allowed in the facilities because there was and still is a lot of restrictions."
Others who are recovering from an eating disorder, like 23-year-old Brianna Mullins, said that receiving some of the "Covery Boxes" has been nothing short of inspiring.
"I love the boxes," Mullins said. "I have a few myself and I also have friends who in the past couple years have been struggling or are personally struggling, and I've gotten them boxes. They've loved them as well."
Like Lionetti, Mullins said she too can testify to the recovery process often being an incredibly difficult one.
"When I was in treatment, I had the same experience where I would get a letter in the mail or somebody would send me a gift and it made my day," Mullins said.
Though Mullins said some of the boxes she received helped her pull through recovery, it was really seeing Lionetti at multiple National Eating Disorder Association Walks (NEDA) that helped her the most.
Mullins, who is the National Walks Associate for NEDA, said meeting and getting to know Lionetti at walks across the country was a privilege.
"I've gone to several walks that she's had sponsorships at, so I've gotten to know her very well through working with her," Mullins said.
Lionetti travels across to various locations around the country every year with NEDA. The goal of the walks is to raise money for prevention and support programs, as well as create a unified force to show that eating disorders are no match for its victims.
According to NEDA, the life-threatening illnesses that eating disorders pose is only growing in size, citing that upwards of 30 million Americans suffer from an eating disorder.
Despite this, NEDA said that eating disorders receive less than $1 in research funds per person affected. Other "major mental illnesses" receive $70 in research funds per person.
Eating disorders are also believed to have the highest mortality rate out of any mental illness. Though the illnesses impact 13 percent of women, particularly college-aged students, men suffer from them as well.''
Though the numbers may be high, Lionetti said few people come forward to share their battle experiences. Now, she's trying to change that by sharing her story.
"[Sharing your story] is hard because you're really vulnerable," Lionetti said. "There are days where I really struggle with being that open about being in recovery and dealing with mental illness and addiction."
Though difficult, Lionetti said that voicing her experience is what continuously keeps her in recovery.
"It's just so important that you share a message with other women who are going through the same thing," Lionetti said. "It's so hard but it's also what lets me know that I'm not alone."
Still, the best part of it all, Lionetti said, is getting to see her customers unwrap her gift.
"Even talking with other women and seeing their reactions to the recovery boxes and seeing them light up is really great," she said. "I get to keep making more and more because of it."
Lionetti credits the growth of her business to a chance encounter in New York at her stepmother's store.
She went on to explain that she and a board member for NEDA began talking. From there, Lionetti joined the conversation and spoke of her company.
"I told her about the recovery boxes and what I did and she just put me in touch with NEDA and we developed such a strong relationship," Lionetti said.
For Mullins, however, who is now close friends with Lionetti, one of the best parts about getting to know her was getting to watch her business take off.
"It's awesome because I've gotten to see her company grow," Mullins said. "She's dedicating her life to making someone's day, somebody that she doesn't even know, and I think that's amazing and beautiful."
Though Lionetti said she is not comfortable disclosing the number of requested recovery boxes she gets in a year, she said there are always as many boxes donated as there are purchased.
And with the boxes growing in size, so is the love that comes with them.
"Hope would be that one thing that I really want to bring to women," Lionetti said.  "There were so many times where I felt so defeated and that's really why I created recovery boxes to have hope for myself and connect family members and loved ones on the outside."
Anyone interested in customizing and purchasing a recovery box can visit Coverbox.com.  
About the Writer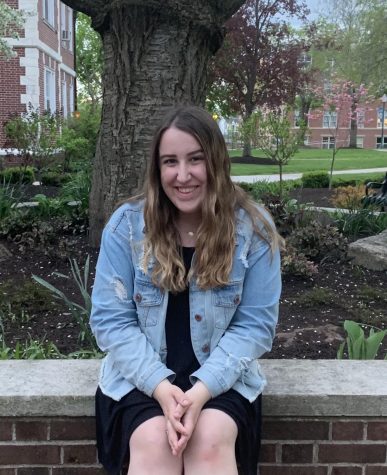 Sarah Willson, Social Media Editor - Twitter
Sarah Willson can be reached at s.willson@my.ccsu.edu