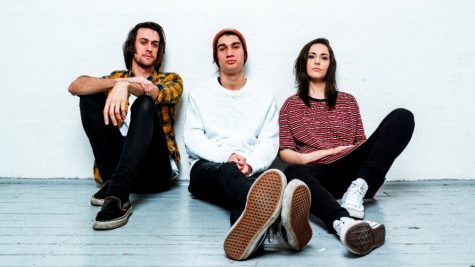 It has been a rather busy year for Aussie pop-punk trio Stand Atlantic, a journey that has heavily helped accumulate their buzz within the music scene.
From their newest signing to Hopeless Records, the band's natural blend of heavy-charged rock with pop melodies has landed them a ticket on several international tours, with bands such as New Found Glory, Neck Deep and State Champs. They also landed the nomination for "Best International Breakthrough Band" at the 2018 Heavy Music Awards and inclusion in Kerrang's Hottest Bands of 2018, all the while finding the time to release their newest debut record.
Released on Oct. 23, "Skinny Dipping" serves as the band's second album, a 10-track showcase of the emotional maturity over Stand Atlantic's years, a sense of self-awareness and the desire to be authentic. Lead singer Bonnie Fraser describes this record as a vulnerable piece of work.
"Skinny dipping can be seen as an innocent thing you do for fun. But at the same time, you're naked and vulnerable and exposing yourself to anything in there," Fraser said. "There are things in life I sometimes feel are either unimportant or something I shouldn't be talking about. It can be so isolating to be truly honest, but to have people accept you is so freeing."
Kicking off the album is "Lavender Bones," the first single of the LP and a rather fitting one. With the driving guitar line and heavy lyrics of introspect and reflection, this track begins the record with the perfect balance of aggression and pop-punk catchiness. A song about coming to terms with one's flaws and shortcomings and learning to accept oneself no matter what.
Fraser's voice soars over the powerful lyrics of "What have I done? Chewing on my words, nothing's enough. / I rinse myself in the dirt. Sold all my time to a plastic ecstasy," creating a powerful vocal performance matched with the accompanist of bassist David Potter and drummer, Jonno Panichi.
The following song "Bullfrog" keeps the band's momentum driving forward, especially with its double-timed drums that move the song's energy along. Because of its chant-like chorus, this track is no-doubt a crowd favorite. It contains the unmistakable Stand Atlantic energy and sound, yet remains distinct as a track, one that overflows with notable rhythms and sing-along opportunities.
Next up is the track "Skinny Dipping," hence the inspiration behind the album's title. This track sets up as a laid-back guitar line as Fraser's voice lays low. While driving towards the chorus, "Skinny Dipping" ultimately takes a powerful stance.
Sending the important message about accepting oneself when one is uncertain, Fraser sings the lyrics, "Thought I could take this to my grave, but instead I let it bury me / Yeah it was my mistake, I needed honest conversation, the kind I only make in my sleep. / Fill my pocket mark with poison personality, another stupid scar won't get me what I need."
The band performs a song that explores the self-doubt and indecision that comes alone with internal struggle, a message that the album's foundation is built upon, leaving this track as a record favorite.
"Speak Slow" is another classic pop-punk song that is typical to see performed as a crowd favorite. Fraser's vocals are electrifying against the bass line, creating a dynamic soundscape. The guitar riffs punch through the musicianship and create a vibrance most notable in this song.
The raw lyrics make their impression rather perfectly against the heavy-punk choruses, as Fraser sings "Sleep in the mess I made / Wake in the empty space."
Stepping away from the previous high-energy that "Speak Slow" gives the album, "Cigarette Kiss" delivers a step down in the best way possible.
With the introduction of acoustic guitar and exposed vocals at the beginning of the song, the track slowly builds in texture and stance, with the chorus exploding in frantic guitar and crashing cymbals, interesting to the ear.
"Lost My Cool" introduces a luring guitar riff, going on about Fraser's anger at a past love with the lyrics "I'm not a saint, I became everything I hate. I still paint you red, just to forget your name. / And piece myself together with a stale glue, found out you're full of sh*t, why don't you swallow it?"
This song puts a feeling into words that all of us will experience at some point in our lives. In this way, the audience is able to listen to the band's knowledge while molding the lyrics to fit their personal experiences.
Following track "Toothpick" takes the album almost to a halt, slowing down to a pace yet to be heard on the record. With the slow electric guitar and missing drum line, the story of a failed relationship is told in an intimate yet relatable way. Fraser's vocals remain delicate and soft while singing the lyrics "Shrinking our worth, mixing fiction with crime like a substance / I'm addicted to diving into the salt tides."
Concluding the album is the track entitled "Roses," a rousing end to a magnificent album that reminds you, "We need more than self-reflection." This song brings the themes of self-growth and acceptance full circle, from the beginning and end of the album.
With the lyrics, "I shed all the skin that's dead and gone…I just need more than self-medicine," the band is still speaking about the uncertainty that comes with accepting one's self, but still leaves listeners with an optimistic twist and finishing on a hopeful note.
All in all, the record "Skinny Dipping" from top to bottom conveys a meaningful story of someone feeling lost in their own skin and learning to be comfortable with themselves, despite the struggle it may involve. Beaming with self-awareness, Stand Atlantic's newest record serves as a powerful introduction to the band for those who are not yet familiar.
With "Skinny Dipping's" perfectly layered sound of punk-tendencies and bubblegum-pop, Stand Atlantic is sure to be a household name for avid pop-punk listeners.