Hartford Superintendent Speaks Success At Latina Talks
Imagine seeing the student that constantly disrupts the teacher one day become that teacher's boss. That is the story of Dr. Leslie Torres-Rodriguez.
Young Torres-Rodriguez came into class one day with so much energy that she started to teach her classmates herself. When the teacher stopped her and asked what was wrong with her, Torres-Rodriguez promptly replied, "No, what's wrong with you? You're so boring!"
"Well, when you become the teacher, [then] you can tell people what to do. You have no place to tell me how to do my job," her teacher, Torres-Rodriguez recalled, had told her.
"I will," Torres-Rodriguez simply said. "Someday I will be telling teachers what to do. I'm not going to become a teacher. I'm going to be the principal so I can then have a bigger impact."
Now, years later, Torres-Rodriguez has gone even further and is the superintendent of Hartford's public schools.
This past Wednesday, Torres-Rodriguez was the guest speaker for Central Connecticut's "Latina Talks" hosted by the Latina Leadership Personal Development Group (LLPD), in the Connecticut Room of Memorial Hall.
After personally greeting each guest in attendance, Torres-Rodriguez gave a brief background on herself.
Her world changed when her mother moved her and her brother from Puerto Rico to Hartford. They lived in a "very cramped," one-bedroom apartment with five other relatives.
"The beautiful beaches in Puerto Rico were quickly replaced with the concrete sidewalks of Park Street," Torres-Rodriguez described.
Despite being able to only speak Spanish at the time, Torres-Rodriguez loved learning and was inspired from a young age to become an educator.
"It was in my first experiences as an educator that I learned the power of having someone who I was able to identify and connect with. As a 9-year-old student, I was so fortunate that I happened to have my first teacher [in America] be a Latina."
Moving forward in life, Torres-Rodriguez went on to pursue a career in education. She attended Manchester Community College and the University of Connecticut to become a teacher. But after dealing with financial difficulties, she went to graduate school at Central, where she earned her doctorate degree in social work.
Today, Torres-Rodriguez implements strategies like community partnerships and a higher focus on reading programs, as well as in-depth looks into school absences, to help students in the Hartford district. Her biggest goal is to make every school a community.
"I want our students to have opportunities during school and before and after," Torres-Rodriguez said. "The magic just cannot happen during the school day. Our students need so much more support."
Much of the audience was enamored by her story and inspired by her hard work. Olga Frito, a CCSU graduate assistant for the Women's Center, believes Torres-Rodriguez is helping to inspire women of color to change the world.
"Although people may give you labels, you don't have to live up to them. I work with the kids that are called 'at-risk,' but they can also be labeled 'with promise,' which is what I think Dr. Torres-Rodriguez labeled herself as," Frito said. "It's why she was able to rise and get [to] the position she is in."
Demesis Negron-Figueroa, LLPD Coordinator and graduating CCSU senior, was able to empathize with Torres-Rodriguez's experience and relate to it personally.
"I remember my teachers telling me I shouldn't do this because I barely speak English, that because they're in a position of power they can tell me what to do. And I remember telling my teacher, 'No, one day I'm going to be your leader.' So hearing her talk about her experience really touched me," Negron-Figueroa explained.
As a future CCSU graduate with a degree in social work, Negron-Figueroa aspires to be like Torres-Rodriguez.
"I told her that I would love her job. That's one of the jobs I have as a goal," she stated. "I see my place in her job and see her as a mentor that I can look up to."
About the Writer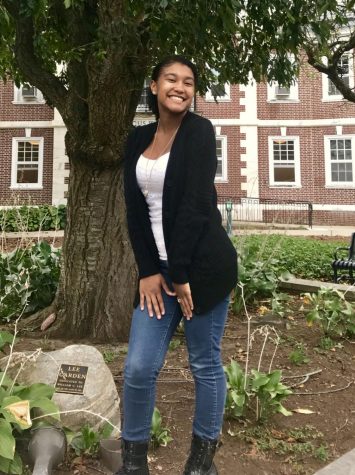 Isabella Chan, Editor-In-Chief
Isabella Chan can be reached at chan2017@my.ccsu.edu.