CCSU And Area Residents Clean Up New Britain Streets
Hang on for a minute...we're trying to find some more stories you might like.
Keeping with its theme of connectedness, Central Connecticut joined the North-Oak Revitalization Zone early Saturday morning to clean up New Britain's streets and hear from residents.
"We are a community engagement university. That means we use our expertise, our resources and our people to help our community," President Dr. Zulma Toro said. She added that it is her second or third time participating in this type of event. "The way the area looks after the cleanup is definitely something we can point to as making a difference in the community."
In addition to CCSU and the NRZ, residents from surrounding towns and New Britain Police Department officers came to take part in the twelfth annual cleanup. Police Chief James Wardwell stated that the department's involvement was important in keeping a strong relationship with the city's people.
"This is a true partnership with the community. It's us shoulder-to-shoulder doing everything we can to make our neighborhoods better," Wardwell stated.
After a small breakfast, volunteers pulled on gloves, grabbed rakes and opened up trash bags, breaking off into groups to tackle the streets of New Britain's North-Oak section. Spencer Levesque, a CCSU junior studying business management and member of the university's Phi Delta Theta, came with other fraternity members to participate.
"We do a lot of community service and community engagement. Every Saturday, we do different things. We're very involved with our community on-campus and off-campus," Levesque stated, saying that just last week, Phi Delta Theta had participated in an annual homelessness walk.
Central's Lambda Alpha Upsilon fraternity also made an appearance, with Chapter President Aaron Sanchez proud of the work the fraternity does. As a New Britain native, Sanchez tries to "give back as much as possible" to the city he calls home.
"It feels good to give back, especially when you can see people's reactions. It's just an unreal experience. It becomes addicting," Sanchez said. "If you don't have anything to live for, [giving back] gives you something to live for because you're making changes in other people's lives."
Jazlyne Sanchez, a CCSU senior majoring in criminology, has lived in different parts of New Britain throughout the last five years. She said that seeing the difference in cleanliness between the area around Central's campus and other neighborhoods made her want to help out, along with being a member of CCSU's Habitat for Humanity Club.
"Next to the school, they have a lot more resources, so I feel like that area is nicer, but yeah, [other areas need cleaning]," Sanchez said.
Eva Magnuszewski, president pro tempore of New Britain's common council and a CCSU graduate, was thrilled to see so many students at the cleanup, explaining that she enjoyed seeing young people do volunteer work.
"I love seeing community effort being put in to beautify neighborhoods and all the positive things that have started happening here. [CCSU] is doing a great job being involved," Magnuszewski stated.
The groups made their way up their assigned routes, raking and picking up everything from empty coffee cups to, at one point, a heroin needle. Omar Ghannam, who led a group up Union Street and whose mother, Yvette Ghannam, is the NRZ's secretary, said he's glad to take such things off the asphalt; he's been doing so since he was five years old.
"It's nice to come through and feel like you're making a difference. Civic duty is something I value and feeling like I contribute to the world. I look for [civic duty] while volunteering," Ghannam said.
CCSU counselor education graduate student and New Britain native Cynthia Mena was also happy to volunteer, saying that she knew firsthand how residents didn't really clean up after themselves even though, Mena believed, they should.
"Engaging in the community and cleaning it up is creating a more positive atmosphere for everyone. When a person sees trash, they don't pick it up and add more trash, but maybe if they see us taking care of our community and picking up the trash, maybe they'll think they should start taking care of the place they live in," Mena commented.
Jonathan Jepson, a part-time CCSU student, was of the same sentiment.
"Why would you just have trash outside of your house and not pick it up? But I guess part of it is they don't have a place to put it," Jepson said. Magnuszewski interjected, saying that residents needed more convenient dumpsters to throw their trash into.
As the cleanup progressed, residents stopped to express their appreciation for the volunteers, with one woman even braking in the middle of the road to speak with the group on the sidewalk. While walking her dogs, Sandra Picard, who lives on Putnam Street, paused to thank the volunteers for the cleanup, elaborating that she was always worried her dogs could get hurt.
"Every time I turn around, [one of my dogs] has a bottle in his mouth. I gotta be really careful because of the glass. There a lot of drug baggies and stuff like that, too," Picard said.
By the end, NRZ President Marie Bachand stated that the police department had counted more than 100 bags of trash and that over 70 volunteers had participated.
"We have people taking responsibility for their neighborhood, which is what we're trying to teach people," Bachand said. "It's awesome."
About the Writer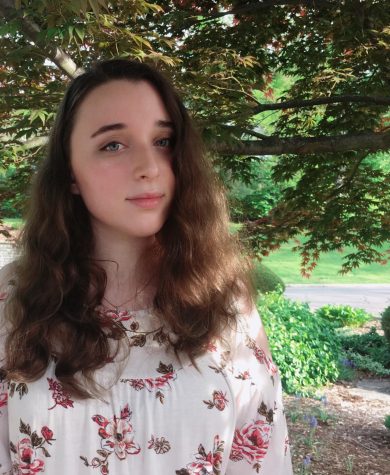 Kristina Vakhman, News Photography Editor
Kristina Vakhman can be reached at news@centralrecorder.com.