CCSU Expanded Food Pantry Reopens With More Aid To Campus Community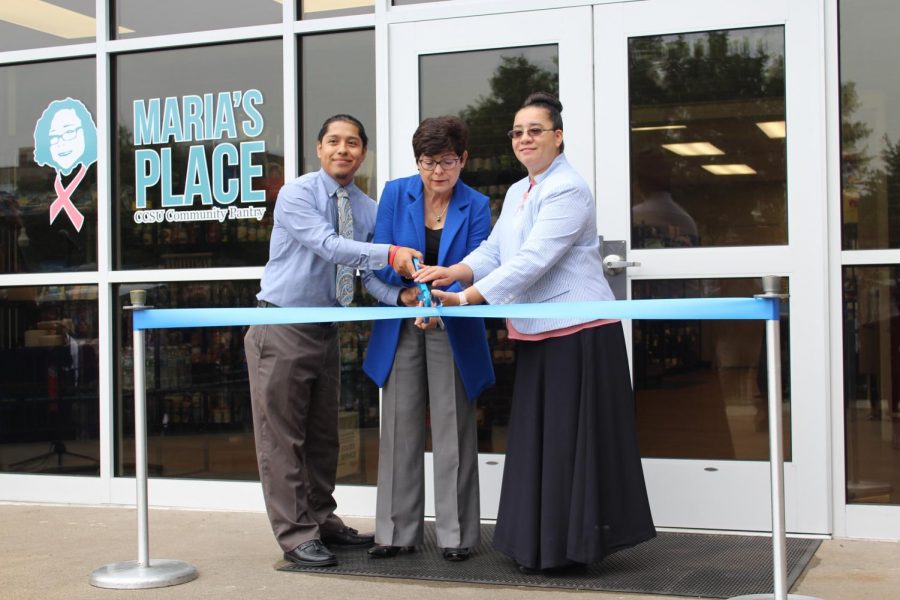 The food is free for those in need at Maria's Place, Central Connecticut's food pantry. Maria A. Alvarez, for whom the pantry is named after, wanted it that way.
"She was always there," Alvarez's daughter Melina Lopez said. Lopez's voice was cracking as she spoke, feeling, she explained, overwhelmed with emotion. "Her concern was always making sure that people's needs were met."
Maria's Place reopened Friday morning with a snip of a blue ribbon. Now on Central's campus, having moved across the street from the Newman House to the lower level entrance of the Vance Academic Center, the pantry has experienced a big expansion. It is now able to service more current CCSU students, faculty and staff who are in need of food assistance.
"The pantry has gone through a major transformation since I began last year," Freddy Rios, the pantry's coordinator and a CCSU graduate student, stated. "Our mission is to alleviate and educate our community about food insecurity while providing the resources so that our CCSU community can thrive together."
Alvarez worked at Central for 32 years. Toward the end of her career, she assumed a position as associate registrar. Off-campus, she was a volunteer at the food pantry in her parish and made sure that anyone who didn't have food on the table went home with enough to set up for dinner.
"For those who knew mom, no one went hungry. When we cut the ribbon, we'll continue the legacy that no one will go hungry at Maria's Place," Lopez said.
In 2015, Alvarez was diagnosed with stage four cancer for the third time. She scheduled her chemotherapy on Fridays so that it would not interfere with her work.
"She'd always say she just needed the weekend and she would be fine," Lopez elaborated. Like her mother, she's worked at CCSU for over 20 years, only in the Bursar's Office. "She helped many students graduate and their dreams come true. It's important to me that her legacy continues because it's that love and compassion that she shared for all that's going to continue through Maria's Place."
According to a survey published earlier in April by researchers at Temple University and the Wisconsin HOPE Lab, more than a third of college students don't always have enough to eat and lack stable housing. It also concluded that 36 percent of college students reported being food insecure.
Additionally, a 2016 research study published by the University of Wisconsin and the Wisconsin HOPE Lab found that food insecurity is linked to lower graduation rates.
Options for hungry students are limited. To qualify for food stamps, the United States Department of Agriculture requires a student to work at least 20 hours a week if they don't have a child. It is not easier for those with children, as the federal government requires them to work 20 to 30 hours a week to get cash assistance.
With Maria's Place's expansion, CCSU hopes to mitigate those burdens for the campus community. Those in need can come fill a grocery bag with up to 10 items of everything from canned goods and bottled water to baby formula and popcorn. Personal products are also available, and Rios said that the pantry will now have school supplies as well.
For Central President Dr. Zulma Toro, her hope is that Maria's Place will provide better access to students to get "the nourishment they need to thrive." The food pantry is further emblematic, she stated, of the university being what she called a "campus of compassion."
"It's not only a way to provide an avenue for students with food insecurity to get the food they need. It is a way to honor Maria and [her] legacy, and that is very important," Dr. Toro said with a bowl of Alvarez's "famous rice and beans" in her hand. "If we can emulate more and more of her behavior and the way she reached out to everyone, we will be better human beings."
Maria's Place is located at CCSU's Vance Academic Center, at the lower level entrance through parking lot T. It is open Monday through Friday from 9 a.m. to 5 p.m. A CCSU Bluechip card is required to take food. Visits to the pantry are confidential and volunteers will maintain privacy.
To learn more about Maria's Place and see a list of donatable items, visit http://compassion.ccsu.edu/foodpantry/. Questions on donations, volunteering and general information can be emailed to foodpantry@ccsu.edu.