Football Drops Season Opener To Ball State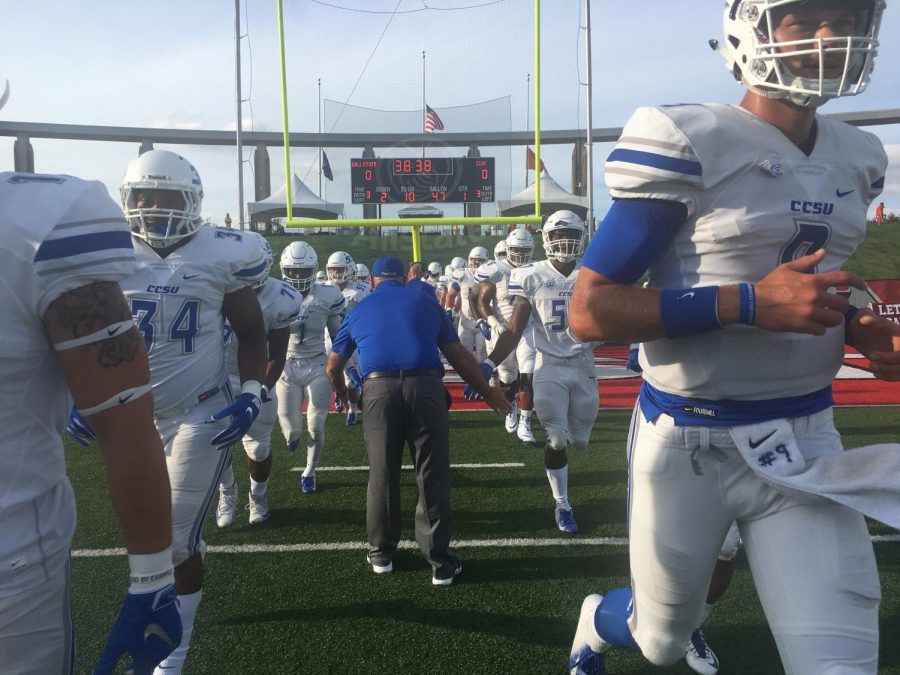 Robert Gullo, Staff Writer
September 5, 2018
The Central Connecticut Blue Devil football opened the season with a 42-6 road loss against Football Bowl Subdivision (FBS) member Ball State on Thursday night. The Blue Devils were playing an FBS team for the third time in school history, now having lost all three games, including a road season-opening loss against Syracuse last season. With the loss, The Blue Devils drop to 0-1 while the Cardinals move to 1-0.
The Blue Devils began their first possession of the game with a missed 37-yard field goal from junior Francis Cole after driving down to Ball State's 23-yard line. The team would then force the Cardinals to punt, only to go three-and-out drive on their second possession.
The following drive, the Cardinals capped off a 13-play drive for 71 yards ending with a 20-yard touchdown pass from Riley Neal to Nolan Givan with just 45 seconds left in the quarter to make the score 7-0.
The Blue Devils offense could not respond as they had a second straight three-and-out.
The Cardinals, however, would take a 14-0 lead after a 12 yard run from Malik Dunner. And on the ensuing kickoff, Blue Devil kick returner Joey Fields fumbled, and the ball was recovered by Ball State and they would take over at Central's 44-yard line. After a pair of first downs, they attempted a 37-yard field goal which was blocked by Brandon Puritt of Central.
Central took over at their own 20 and after gaining just one first down, they were forced to punt and Ball State took over at their 8-yard line. Ball State would just need 2:43 to cap off a nine play 92-yard drive which resulted in a 16-yard touchdown run from Neal off of an option read that extended the Cardinal's lead to 21-0.
The score remained 21-0 at halftime after an impressive goal-line stand by CCSU from their one-yard line as time expired.
The second half would begin with a fake punt from Ball State which resulted in a fumble recovery by DJ Exilhomme to take over at Ball State's 22-yard line. They couldn't take advantage and ended up attempting a fake field goal pass that fell short.
The Cardinals would extend their lead to 28-0 with 10:23 left in the 3rd quarter after a couple big runs including a 35-yard touchdown run from James Gilbert.
The lead would eventually increase to 35-0 for the Cardinals after a 9 play 89-yard drive with Neal throwing a 20-yard touchdown pass to Yo'Heinz Tyler. Tyler would go on to score the last touchdown off of a 63-yard pass from Drew Plitt with 3:53 left in the game.
The Blue Devils would avoid the shutout scoring with just 12 seconds left in the game off a two-yard run from sophomore running back Aaron Dawson. Dawson led all Blue Devils with 61 yards on the ground. Senior quarterback Jacob Dolegala finished the game with 117 yards in the air with no touchdowns.
The Blue Devils will look to get their first win of the season when they host the Division II Lincoln Lions Friday, Sep. 9 in their home opener.